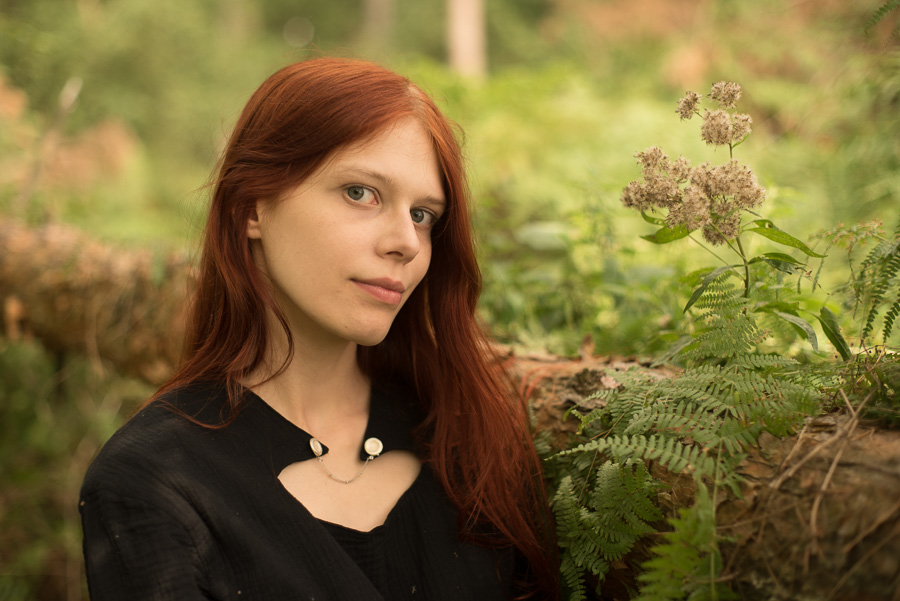 Hi, I'm Sarah and I'm the human behind the scenes!
Having lived in a (post) industrial city for all of my life with roots in the Bavarian forest and a heart full of wanderlust, I've always been fond of contradictions. A city kid who hears the call of the forest and a nature child who has made a nest in the urban landscape. And now I'm channeling these feelings into my projects, making a home in this floating world.
In my free time I like reading comics, playing video games and learning about whatever topic has me in its grasp this time (often it's history.) Or I'm roaming around in nature, collecting herbs and listening to the songs of birds. Everything is an inspiration to me in some way and if I'm not incorporating them into my craft, I enjoy putting my impressions into words. I also live with two lovely bunnies who are always curiously inspecting everything I do.
After studying Fashion Design and acquiring a Bachelor of Arts, I founded Woodcabin as an ethical small fashion label and have since continuously worked to expand on its mission to become sustainable on all levels. Since autumn 2021 I've switched my focus to hosting my own Upcycling Workshops after having had the opportunity to do so for Planet Upcycling for six years prior (with whom I'm still cooperating to this day.) I'm very excited to build on this project and share my creative knowledge. The clothing part of Woodcabin will continue, just a little more in the background. 
Curriculum Vitae
since 2021: hosting upcycling workshops as a freelancer (via Woodcabin) in Dortmund and surrounding areas
since 2017: freelance fashion designer, self-employed with Woodcabin
since 2016: giving upcycling workshops for PLUP – Planet Upcycling (for Katjes, Caritas, Fairhaus, a.o.)
2013 – 2017: Mediadesign Hochschule Düsseldorf, Fashion Design (B.A.)
2015 – 2016: internship at PLUP – Planet Upcycling
2010 – 2013: assisting in the costume departments and other working fields of various theatres