UPCYCLING WORKSHOPS
for everyone from 6 to 106
creatively encouraging environmental consciousness, sustainable thinking, as well as social responsibility by giving new value to presumed trash
Want to know more or take part yourself?
Read on!
I'm sure you have heard of recycling before, upcycling is fairly similar, only better. In contrast to recycling where something is separated into its components and often destroyed to be reformed, upcycling uses the whole material. This means there is no additional energy needed to create new material, making it incredibly environmentally friendly. And it's not just being repurposed, upcycling actively aims to increase the value of the materials used.
And this is what we're doing together in my workshops. 
The Workshops
Upcycling-Workshops for everyone from 6 – 106 in your youth club, meeting center, school, or just in your home
Together we are exploring different materials destined for landfill, to transform them into something new and beautiful – and useful too! I'm currently offering four different materials that I have in stock: bicycle tube, textiles, paper packaging and tetra pak. However I'm always happy to figure out custom ideas and solutions for recurring trash on site – don't hesitate to ask about that if you're interested!
for educational facilities
The workshops further creativity as well as craftsmanship, introducing the participants to new techniques and allowing them to freely apply what they have learned. This playful approach to the topic of sustainability is a way of raising lasting awareness by having tangible benefits for the participants.
The Materials
Interesting creative materials are just lying on the street – quite literally. Often the things we throw away without a second thought are still incredibly versatile materials that you could create all kinds of different projects with! I've specialized in four different ones, sourced in cooperation with local businesses. I'm continuously on the lookout for new ones and will keep this page updated!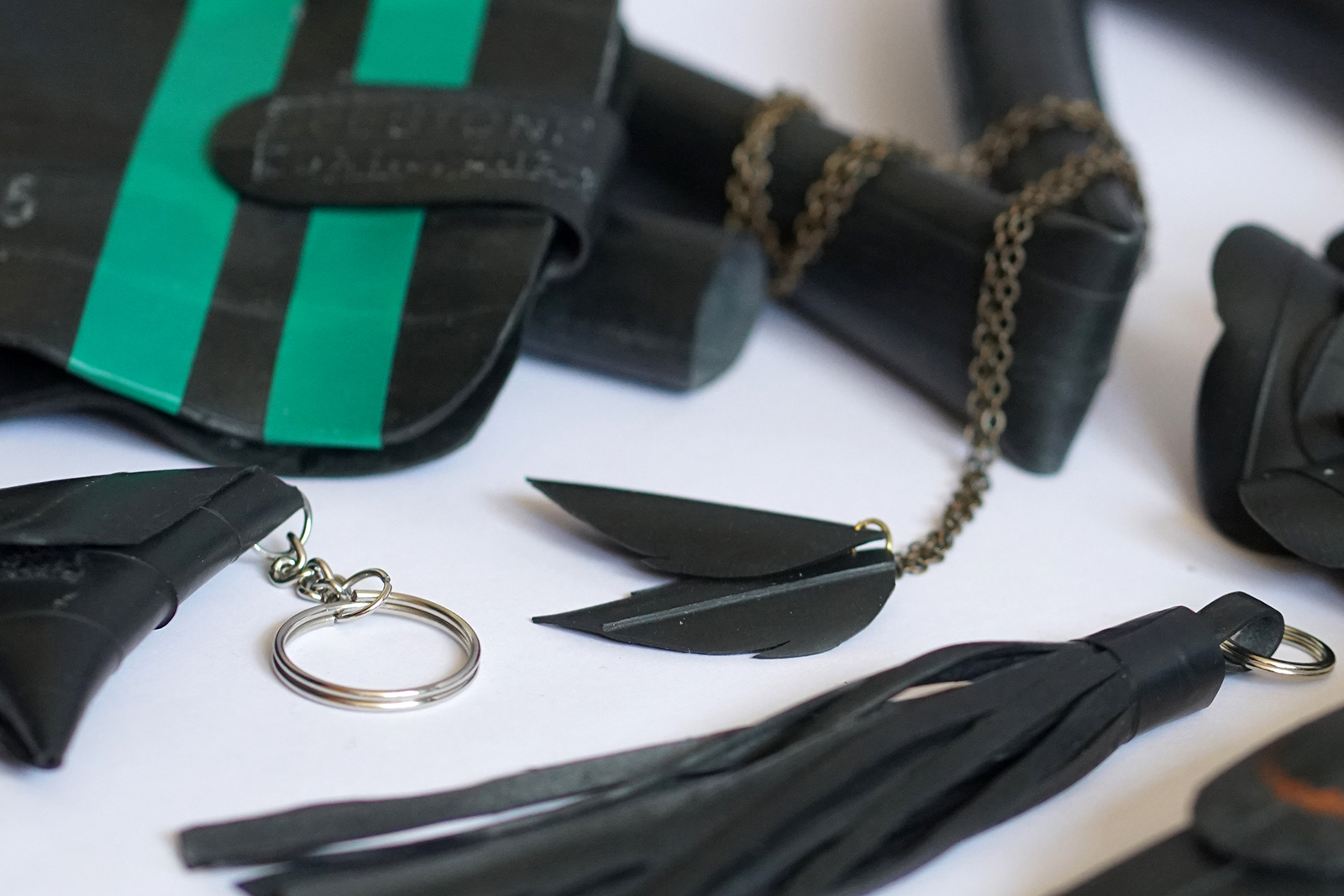 Bicycle Tube
While bicycle tube is hard to dispose of in an environmentally friendly way, it' also an incredibly versatile material to create little pouches, keychains, wallets and even jewelry from!
The bicycle tubes are provided by the 2Wheel Garage, a bicycle shop right around the corner from my little apartment/studio.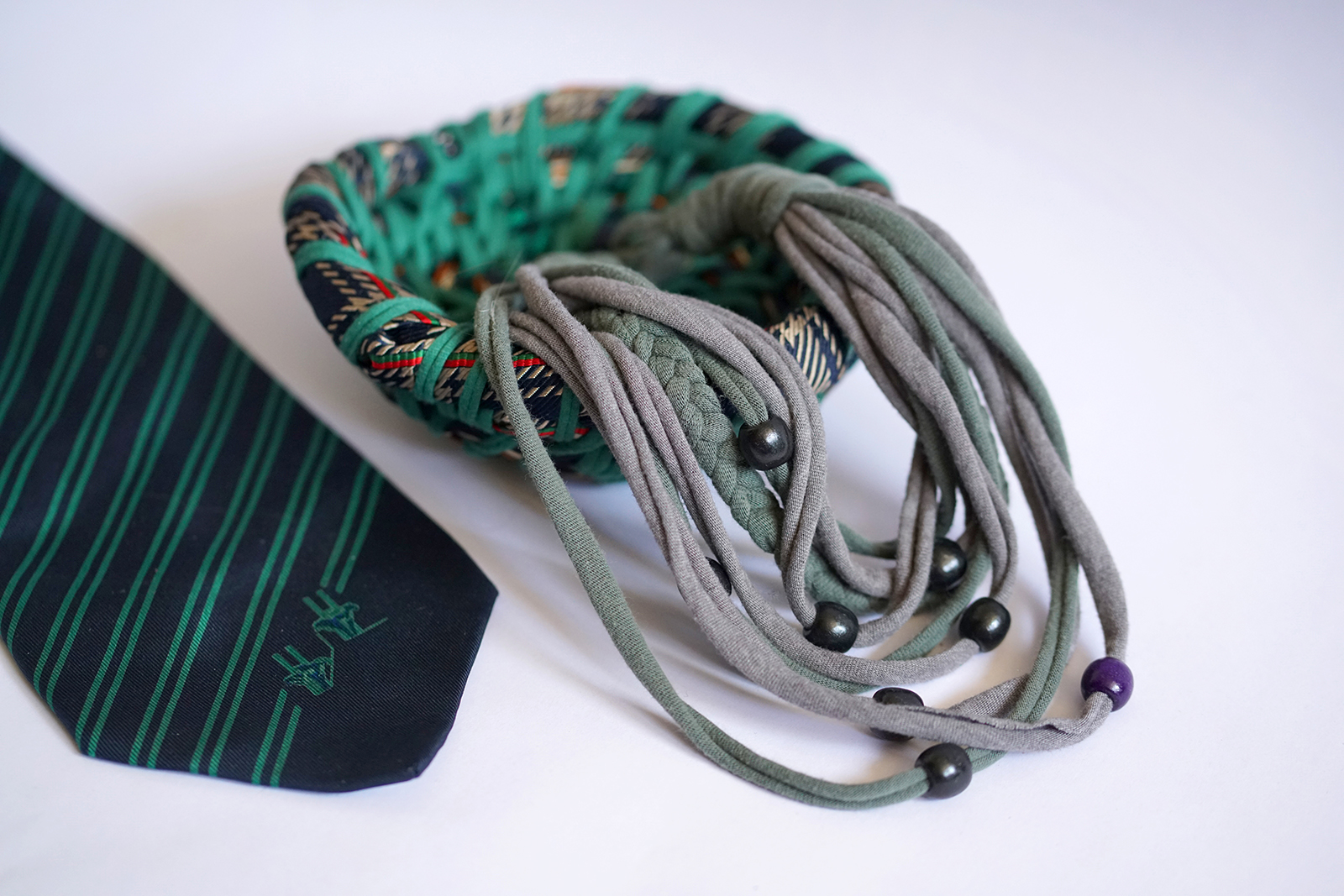 Textiles
Employing different weaving techniques, used clothing is transformed into fabric bowls, placemats and little coasters. The creation of jewelry is also possible. 
Oxfam Dortmund is collecting clothes for this project, that can neither be sold in their charity shops, nor directly donated.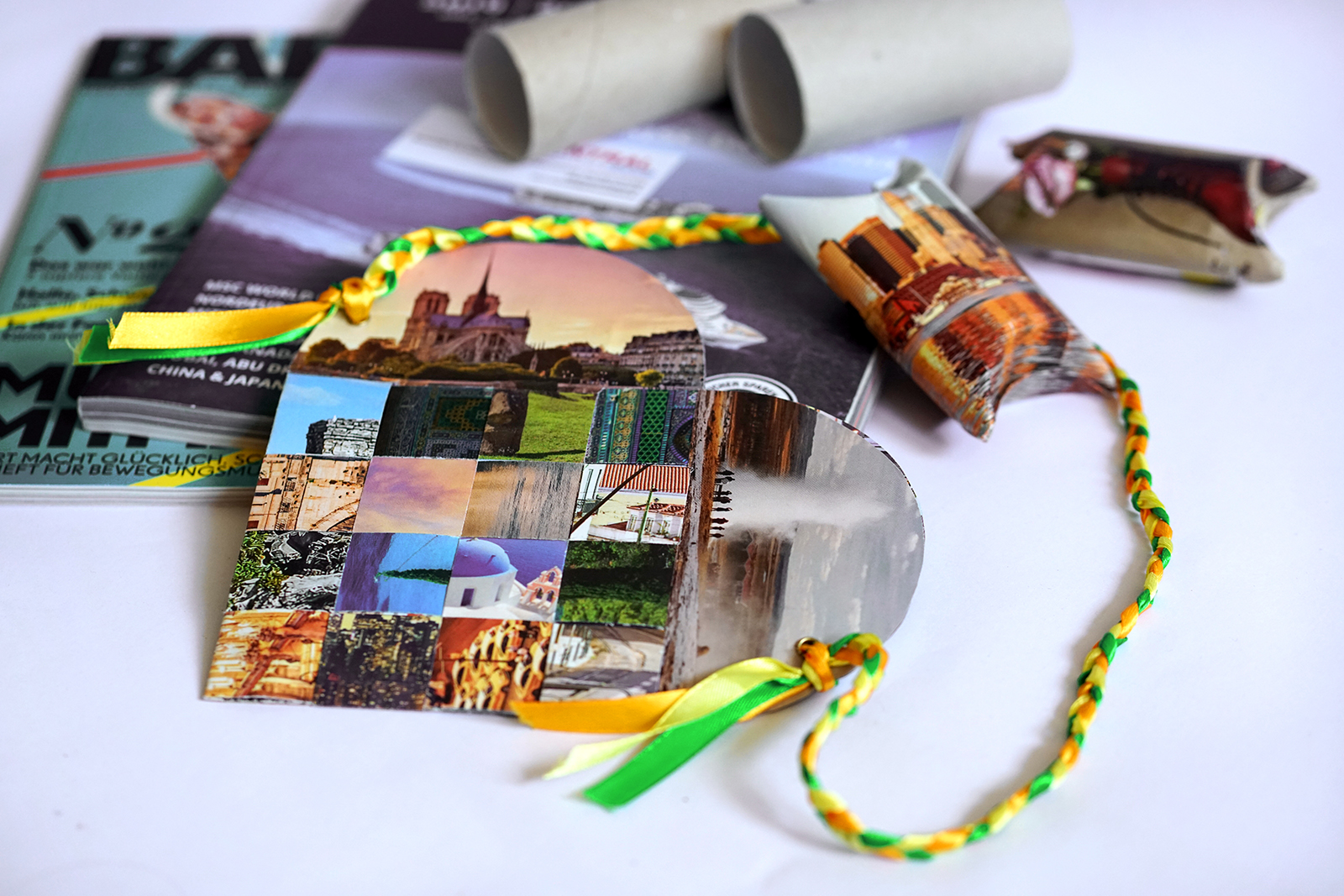 Paper Packaging
How to gift sustainably: Fancy presents don't need newly bought gift wrap, your paper packaging and old magazines can be turned into beautiful gift boxes with a personal flair! 
The catalogues and magazines used in this workshop have been sourced from various local businesses.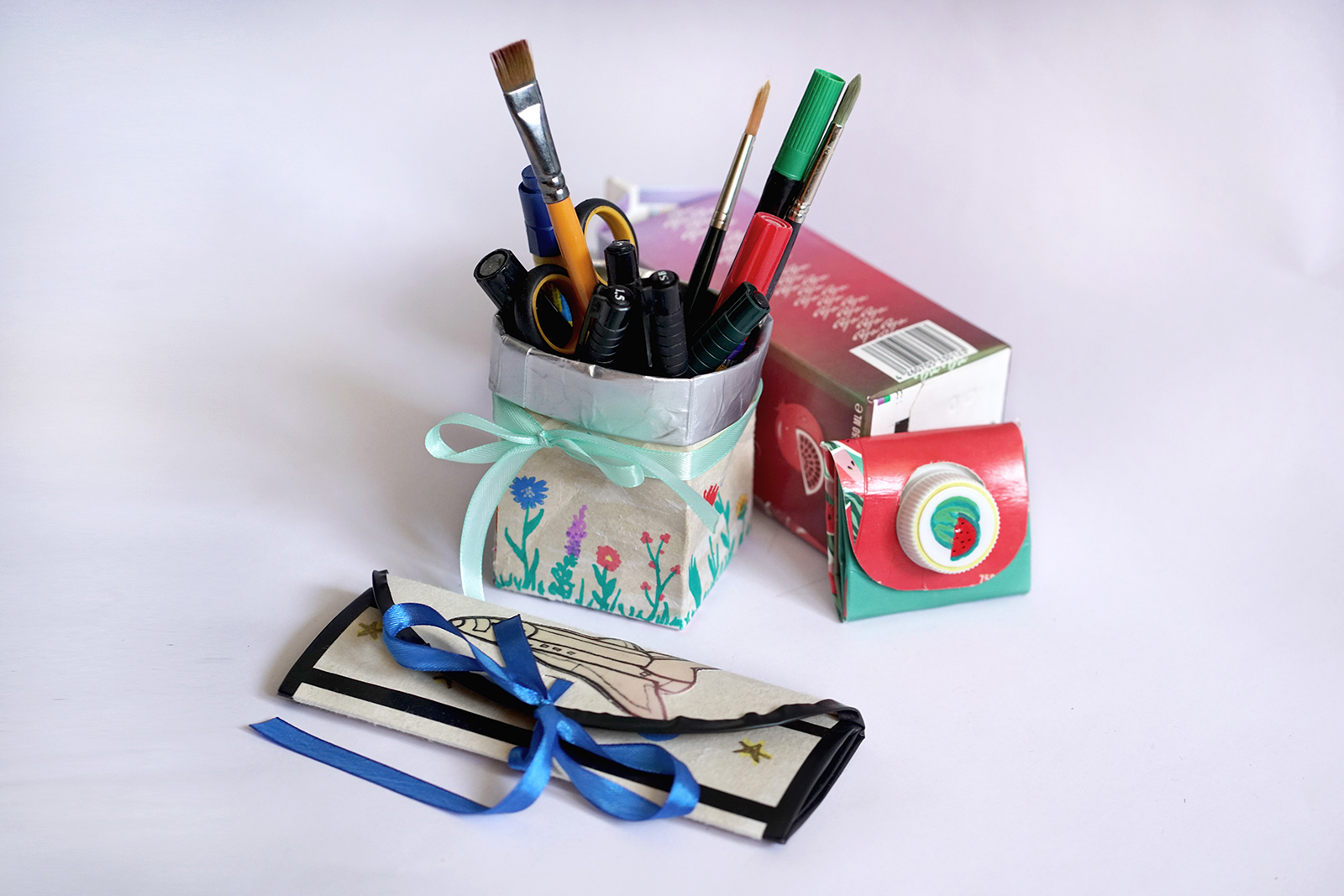 Tetra Pak
Tetra Pak is common in  almost every household and is usually discarded after use, despite it being an interesting material to make i.e. bird houses, pencil pouches and wallets out of!
The Tetra Paks used are coming from little cafés in the area (or from my own use – my friends helped.)
How it works
I will arrive at the confirmed location with all the materials and tools required, unless specified otherwise in advance. The only thing I need from you are enough tables so everyone can work comfortably. Usually my workshops are set for a duration of three hours for a group of 10 people max. This leaves enough time to get acquainted with the materials and the different techniques used to work with them, as well as to start experimenting with own ideas. I will of course help in developing an realizing those as well. There is no experience with tools etc. needed, however cutting independently is a required skill. Larger groups and bigger events are possible at a different rate as I would have to bring another instructor with me.
After the three hours have passed, every participant has at least one (although more likely several) projects completed to take home! 
Unfortunately I can currently only offer these workshops in Dortmund, Germany and surrounding areas. However if you are interested in hiring me for a longer project or workshop series, don't hesitate to contact me to see if we can find a solution!
I'm able to host events in German and English.