PACKAGING
plastic-free gifts to yourself
I'm packing each and every Woodcabin item you buy by hand into plastic-free and mostly upcycled packaging. All the little details added are made from renewable sources or upcycled materials and even the twine and tape are made from renewable and eco-friendly materials. And I'm always adding a little personal touch.
Buying something for yourself should always feel like a gift, so I'm making sure your Woodcabin piece arrives at your doorstep looking like one! And gifts can be wrapped sustainably. 
Instead of using a plastic garment bad, your new clothes are wrapped in recycled (and often upcycled) paper and closed with recycled paper tape. Often I add secondhand ribbons or natural jute twine to tie in some local flora as decoration. The plants are all collected by hand and I never take more than a few twigs at once, so the plant isn't harmed. They are also dried, so there is no danger of introducing an invasive species to your area, especially if you order from overseas. To top it all off a few little surprises are added. I can't tell you what, but there will be no plastic involved!
Finally the little present is put into a cardboard box and sealed up. Unfortunately the packages themselves have to be bought new due to national laws that actually exist to protect the environment by making the boxes traceable. Woodcabin ships all producs in 100% recycled and carbon-neutral cardboard boxes that are recyclable as well. 
There is also a self-designed postcard with a personal message and detailed care instructions for your new piece, so you can enjoy it for the longest time possible.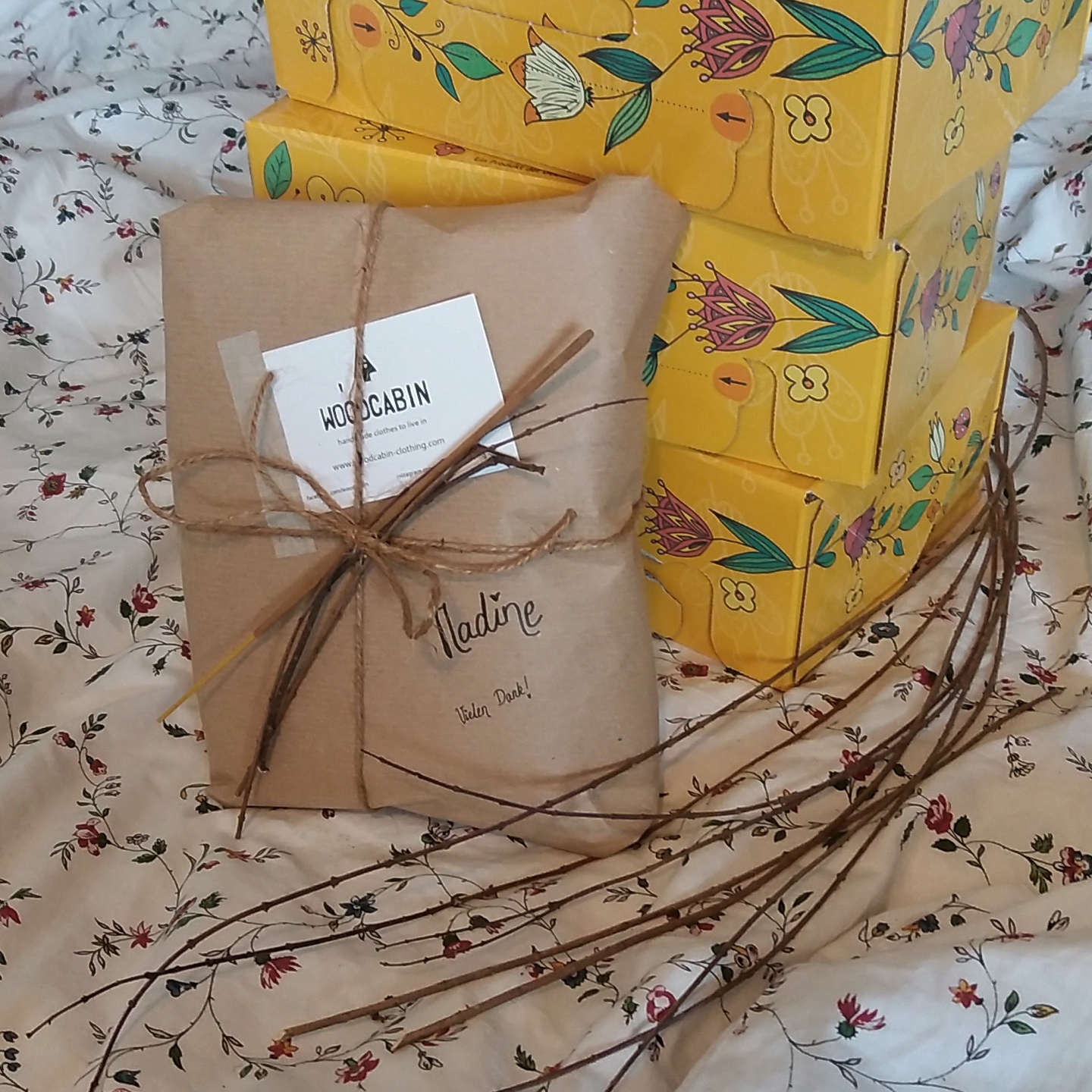 How your clothes get to you
After your order has been wrapped by hand, I'm personally delivering it to the post office on foot and from there DHL, our national package service takes care of the rest. For shipping I'm using a service by DHL called GoGreen, which aims to reduce and offset carbon emissions during transportation. You can read more about this initiative here (click!) Unfortunately DHL is a national provider, so for international customers the process is not as traceable, although it is being offered. I am looking into solutions for this.
Furthermore all print products are printed ecologically right here in Germany. That means bio-certified colors are used on recycling paper by using renewable energies, reducing emissions and compensating the remaining ones, making the final product carbon neutral. You can read more about the sustainability guidelines of Woodcabin's printing house of choice on their website (page only available in German.)
What to do with the package after
All packaging materials are recyclable or compostable, but I strongly encourage you to reuse the materials if possible. After all, you directly prolong a product's life the longer you use it – and that also goes for packaging. If you don't have any use for it, please recycle the paper products. The natural materials used as decoration can easily be composted if you have access to that. Please do keep the postcard to have your garment care information available, since Woodcabin clothing comes without tags.