UPCYCLING
turning waste into something much better
Upcycling lies at the core of Woodcabin's philosophy. From the material choices to packaging and even your garment's afterlife with the free repair service, the principles of repair, reuse, recycle – or rather upcycle – are running through every vein of Woodcabin. My Upcycling Workshops are passing these ideas on and make them more tangible.
What exactly is Upcycling?
Upcycling is a step up from recycling! For the recycling process, waste is processed into new material and then processed again to become the same product again, or a similar one. There is also downcycling, where the material becomes a product of lesser value compared to its original purpose, think rags from T-shirts. If you want to read more about the process of textile recycling in particular, check out this article (click!)
In contrast, upcycling uses the material in its entirety without additional steps to break it down into its components. It is then directly turned into a new product that has a higher value than the one it was produced from, that's why it's called upcycling. Since the material already exists, ready to work with, the whole production process costs less energy than recycling, as well as traditional production. Making something of higher value out of material destined for landfill prolongs its life expectancy profoundly and leaves room for re- or downcycling at a later time.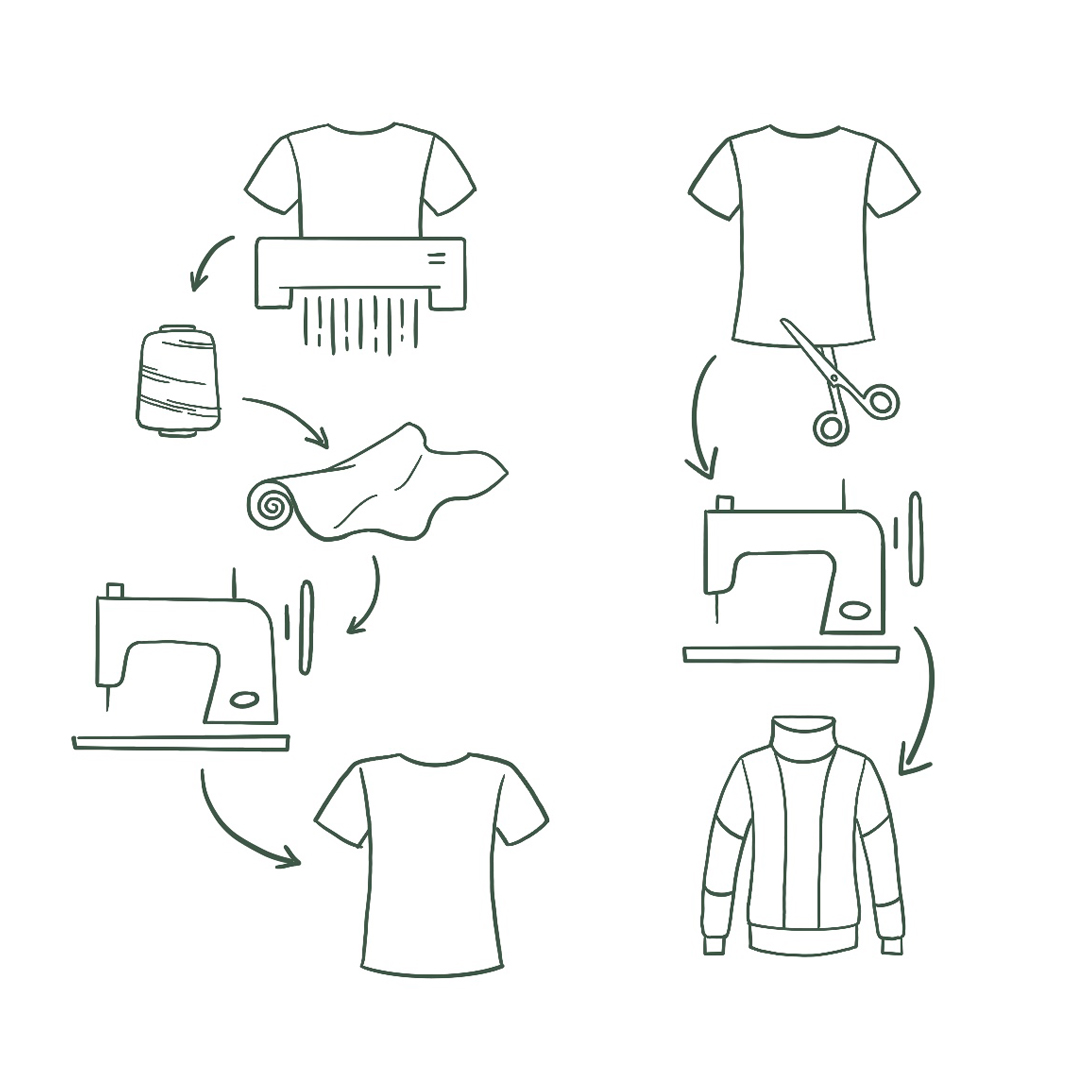 How Woodcabin does it
Woodcabin's whole product range is made from fabric destined for landfill: Secondhand garments and deadstock fabrics are combined to become something new. Woodcabin often uses fabric scraps to pad quilting or create patchwork and since 2022 no leftovers are discarded, so the production doesn't amass more waste. To reduce even further, all patterns are transitioning to be zero-waste in the first place, leaving only scraps from trimming seam allowances, leftover thread, unusable material etc.
Applying what I learned while studying fashion design, the resulting products are of a higher quality than what I started with. They are always designed for mobility and action so you don't tear them when you're moving about. And should your adventures end up leaving you with holes in your clothes, Woodcabin offers a free repair service so they will look like new in no time. This guarantee is life-long and applies even if you don't have the receipt anymore – I will recognize each piece I made. Not only does this give you a few extra years with your favourite items, it also keeps the material out of the waste stream for much longer.
If your item is beyond saving, you can send it back to me in exchange for a 25€ gift card for the Woodcabin etsy shop. You do have to pay for shipping, but you're making sure that your clothes are being turned into someone else's new favourite piece. Materials that are not suitable to be reworked due to their lessened quality will be reused like the fabric scraps are.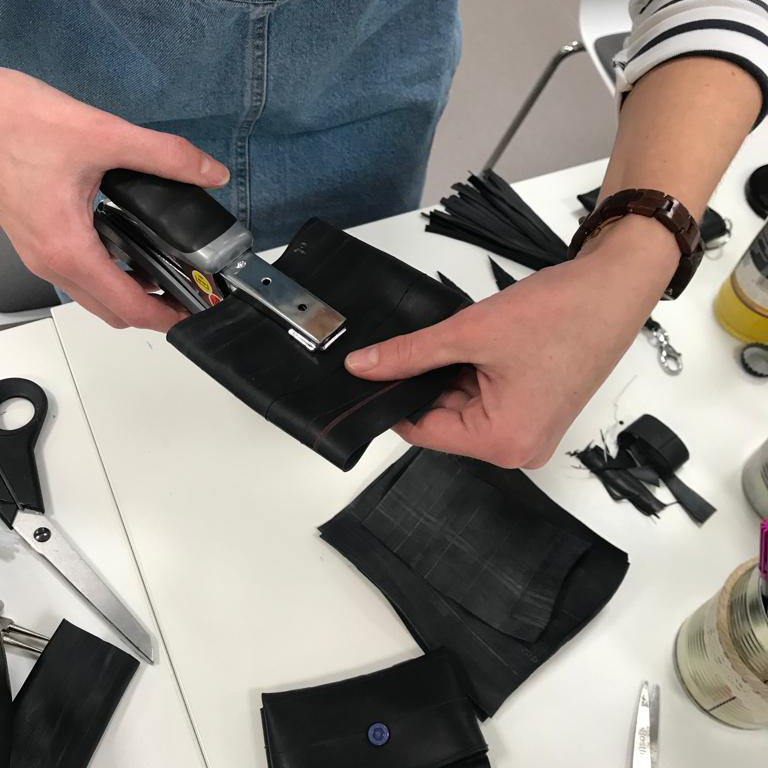 Since Autumn 2021 I'm offering upcycling workshops for everyone from ages 6 to 106 in Dortmund and surrounding areas. They make the topics of waste-reduction, recycling and sustainability more accessible and tangible by encouraging the participants to take action themselves. And hopefully they will give a new perspective on the creative potential lying literally on the street. 
The base workshops focus on four different materials: bicycle tube, textiles, paper and advertisement material, and finally TetraPak. Choosing to use common everyday materials animates the participants further to carry their new knowledge over into their own lives. 
It is also possible to work with the host organisation directly and use waste that is common specifically for them, like school books or banners. This doesn't only achieve the goals outlined above, but also helps the organisation to reduce their own waste. 
What the future looks like
At the moment only the base materials for both, Woodcabin clothes and workshop supplies are upcycled. That means most of the additional things needed to create something from them are still sourced from virgin materials. At the moment my workshop supplies are not even sourced sustainably at all – except the waste materials that are collected from local small businesses. I'm currently looking for suppliers that carry the items I need and produce them in an ethical and sustainable way, preferable from recycled materials. I'm also constantly on the lookout for upcycled alternatives to new-bought items. There is no time frame for this goal since I can't foresee how long it will take me to find suppliers that are not only ethical, but also local small businesses. However I will keep this page updated on any changes that happen. The end goal is to completely use environmentally friendly materials and upcycle as many components as possible. You can find more specific details about what these goals mean for each part of Woodcabin and how I'm planning to achieve them throughout these pages.