FREE REPAIR SERVICE
prolonging the life cycle of your favourite clothes
You should be able to enjoy yout garments for as long as possible and mending holes and tears gives them a new lease at life. Simply send your damaged items to me and I'll take care of the rest, free of charge. This guarantee will never run out, so even if it's been ages since you bought your piece, that's all the more reason to keep it alive for years to come!
Found a hole in your shirt or a tear in your pants? Worry not, Woodcabin has your back. With every piece comes a life-long guarantee for free repairs, no receipt needed or anything. So just leave it to me and you'll have your favourite outfit back in no time! 
All you have to do is send the garment to me. You can use any box you like, maybe even reuse one you already have! Make sure your item is clean and wrapped up safely before you send it travelling. Please include your email address so I can contact you and a return slip. You have to pay for shipping yourself in return for my free services. If you don't know how to add a return slip, or you don't want to, you can also pay via PayPal. 
In special cases where the damage is very hard to mend or a lot of material is needed, a small fee will be collected. I have not yet had a case like this, but want to make sure I can make good on this offer. If there is a problem with the material, or any other error that occured during production, the repairs are completely free of course and shipping costs will be refunded.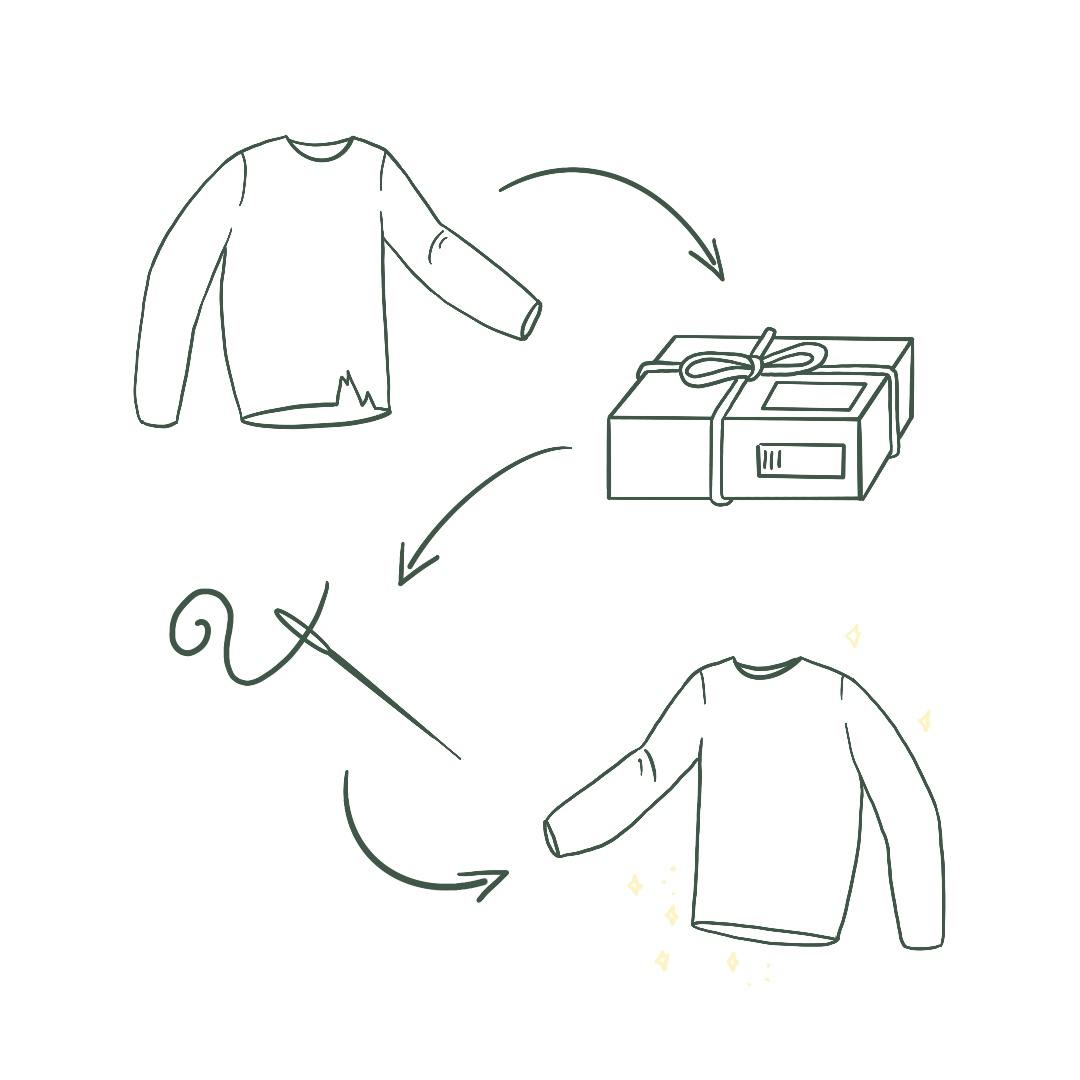 Why a free repair service?
One of the biggest factors behind textile waste is the design for obsolence and the mindset of replacing instead of repairing. In addition to that the skills to mend clothes are not as common as they used to be, so many people just don't know how. And I did not want Woodcabin pieces to become part of that cycle, so I thought of a solution! By offering a free repair service, I'm giving customers who don't know how to fix the damage themselves the option to have their garments mended and to further enjoy them for potentially years to come. This service will be free forever, so that everyone feels encouraged to use it.
I'm also working on a little guide for some small repairs, so you can do them yourself – and fix all your non-Woodcabin clothes as well. It will be posted on this website free of charge as well.
Where to send your clothes
Find the address below.
Please send your items washed and pack them safely so they don't get damaged further during transportation. Include your email address, so I can contact you. You can notify me beforehand via email, but you don't have to. Either include a return slip or pay the return shipping cost via PayPal.
Address
Woodcabin
Sarah Neuwirth
Gneisenaustr. 6a
44147 Dortmund
Germany